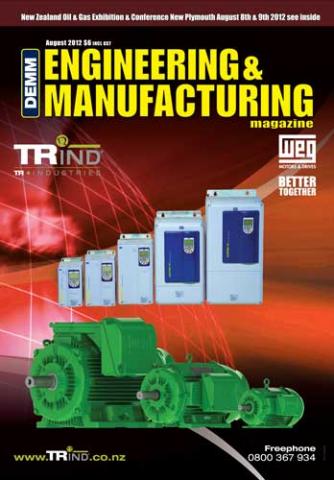 Demm Engineering & Manufacturing August 2012
Product Watch
A roundup of technologies and services designed to increase the productivity, efficiency and safety of the engineering and manufacturing sector.
NZ Oil & Gas Expo preview
The 2012 New Zealand Oil & Gas Exhibition will see the oil and gas industry's best come together for two days of information, networking and education.
Motors & Drives
How a new firefighting robot got his sea legs and a range of other stories relevant to this sector.
Hydraulics & Pneumatics
We showcase a new, extremely compact high pressure spiral hose and also report on other recent developments in the world of hydraulics and pneumatics.
Lubrication
The interview with Richard J. Clancy sheds some light on urgent topics related to lubrication in maintenance.
Maintenance Matters
It's high time that New Zealand's engineers and the manufacturing industries woke up to the serious problems created by counterfeiting, says Larry Wiechern.
Special Feature
The "Tauranga Business Case" campaign highlights the massive benefits of doing business in Tauranga and the Western Bay of Plenty.
Electrical Technology
Learn how to successfully install your electrical enclosure outdoors.