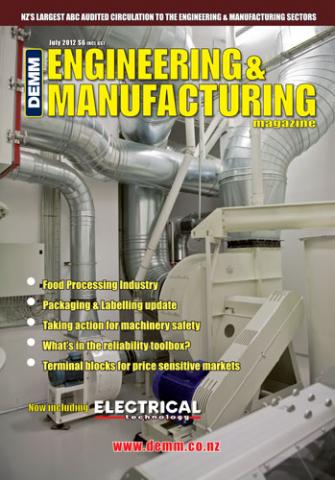 Demm Engineering & Manufacturing July 2012
Product Watch
A round-up of technologies and services designed to increase the productivity, efficiency and safety of the engineering and manufacturing sector.
Food Processing Industry
The latest developments in the world of Food Processing. Includes a closer look at how cleaning in place works and where it should be used.
Packaging & Labelling
A range of stories relevant to this sector, including a new solution to protect anything and everything, anywhere.
Machinery Safety
Editor Stefan Richter asked safety specialist Pilz where the alarming work toll in the manufacturing sector comes from – and what to do about it.
Fastenings
The EDL Kanban System helps users of fastener and consumable products reduce labour costs and inventory levels.
Maintenance Matters
This feature includes a description of the most important tools every maintenance engineer should have in their reliability toolbox.
Electrical Technology
We take a closer look at cabling and wiring and the changes that have occurred with the Machinery Directive and standards influencing AS 4024:2006.